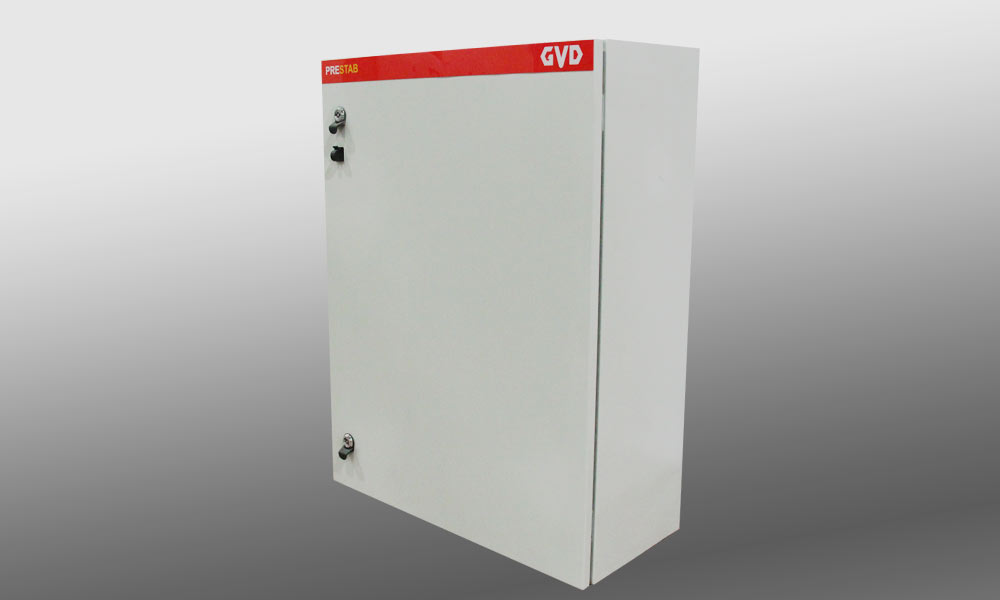 Prestab panels designed according to Low Voltage Switchgear Systems IEC 61439-2.
Has a monoblock structure and mounting types are available for ABB,Legrand,Eaton,Schneider and Siemens switchgears.
The system enables panel assembly by the vertical and horizontal mounting types of these 5 different switchgear brands.
Prestab cabinets are one of our wall mounted type system solutions.
Structure consist of 150, 200, 250, 300, 400 mm depth system solutions with single module.
Modules have different alternatives such as 200, 300, 400, 500, 600, 700, 800, 1000, 1200 mm width; 300, 400, 500, 600,700, 800,1000,1200, 1400 mm height.
Provides different solutions from IP31, IP43, IP55, up to IP66 protection degree.

Structure;
Prestab cabinets have a monoblock welded structure.
Due to the bending and welding operations on the module structure, it has a protection degree up to IP66.
Prestab cabinets are available in box packings for shipments.
Beside all these it provides an esthetical outlook.
| | |
| --- | --- |
| Standards Standartlar | IEC 61439-2 |
| Using Area Kullanım Sınıfı | Indoor and Outdoor Dahili ve Harici |
| Grid Type Şebeke Tipi | TN-C, TN-S, TN C-S, TT, IT |
| Gerilim Voltage, Un | AC 400 V |
| Rated Service Voltage Çalışma Gerilimi, Ue | up to 690V 690V'a kadar |
| Rated Insulation Voltage Çalışma Yalıtım Gerilimi, Ui | up to 1000V / 1000V'a kadar |
| Rated Impulse Withstand Voltage Darbe Dayanım Gerilimi, Uimp | 8 kV |
| Overvoltage Category Aşırı Gerilim Kategorisi | III / IV |
| Pollution Degree Kirlilik Derecesi | 3 |
| Rated Current Bara Çalışma Akımı, In | up to 630A 630A'e kadar |
| Rated Short-time Short-circuit withstand current Bara Kısa Süreli Dayanım Akımı, Icw | up to 50kA 50 kA'e kadar |
| Rated Peak Short-circuit Current Bara Tepe Dayanım Akımı, Ipk | 110kA |
| Rated Frequency Çalışma Frekansı, f | 50-60 Hz |
| Segregation İç Bölümlendirme | up to Form 2b / Form 2b 'ye kadar |
| Degree of Protection Koruma Sınıfı | up to IP66 / IP66'ya kadar |
| Mechanical Resistance to Impacts Mekanik Darbe Koruması | IK10 |
| Ambient temperature Ortam Sıcaklığı | 35 (24 h) |
| Frame Karkas | Galvanized Steel Galvaniz Çelik |
| Doors and Covers Kapı ve Kapaklar | Steel, Electrostatic Powder Paint Çelik, Elektrostatik Toz Boya |
| Installation Plates Montaj Plakaları | Galvanized Steel Galvaniz Çelik |
| Color Renk | RAL 7035 |