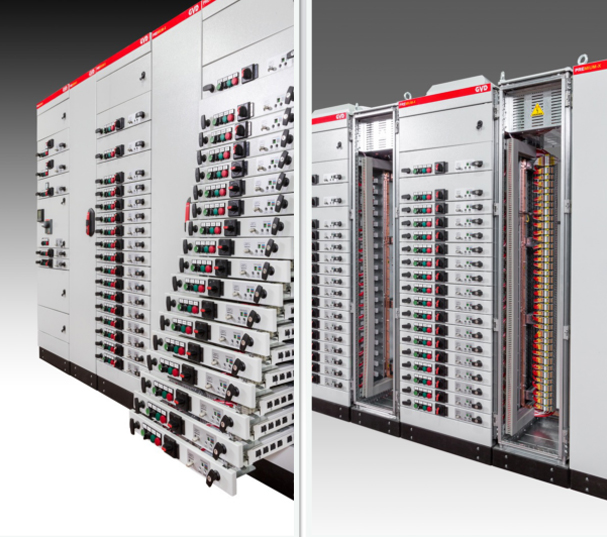 Premium XW panels designed according to Low Voltage Switchgear Systems IEC 61439-2.
Has a modular structure and mounting types are available for ABB,Legrand,Eaton,Schneider and Siemens switchgears.
The system enables panel assembly by the vertical and horizontal mounting types of these 5 different switchgear brands.
Premium XW cabinets are one of our free standing type system solutions.
Structure consist of 600mm depth system solutions with single module.
Busbar compartment depth should be limited as 600 mm for higher depths .
Modules have different alternatives such as 400, 600 mm width; 1400, 1600, 1800, 2000, 2200 mm height.
Module and busbar compartments should be 600 mm and cable compartments should be 400 mm.
Provides different solutions from IP31, IP43, up to IP55 protection degree.

Structure:
Premium-XW cabinets with specially designed profile structure which has 27 bendings provides several advantages to our customers about quality and easy installation.
This profile structure gives maximum strength and rigidty to the product.
Even though it has a modular structure due to the gasket channels on the profile protection degree available upto IP 65 .
Since it has modular structure, Premium-X cabinets are available in flat pack for shipments.
Door hinges, panel combinations, rear & side door fixations can be done with a single part in this this profile system.
Beside all these it provides an esthetical outlook.

Certificates Of The Product:
* Full Type Test Certificate 6300A, 120kA, Form 4b
* Internal Arc Containment Certificate
* Seismic Test Certificate
* IP Certificate
* Gost-R
* CE
* TSE
* ISO 9001 - ISO 14001 - ISO 18001
Standards Standartlar
IEC 61439-2
Test of Antiseismic Anti Sismik Testi
IEC 60068-3-3
Test of Vibration Vibrasyon Testi
Using Area Kullanım Sınıfı
Indoor Dahili
Grid Type Şebeke Tipi
TN-C, TN-S, TN C-S, TT, IT
Gerilim Voltage, Un
AC 400 V
Rated Service Voltage Çalışma Gerilimi, Ue
up to 690V 690V'a kadar
Rated Insulation Voltage Çalışma Yalıtım Gerilimi, Ui
up to 1000V 1000V'a kadar
Rated Impulse Withstand Voltage Darbe Dayanım Gerilimi, Uimp
8 Kv
Overvoltage Category Aşırı Gerilim Kategorisi
III / IV
Pollution Degree Kirlilik Derecesi
3
Rated Current Bara Çalışma Akımı, In
up to 6300A 6300A'e kadar
Vertical Busbar Rated Current Düşey Bara Çalışma Akımı, In
up to 1400A 1400A'e kadar
Rated Short-time Short-circuit withstand current Bara Kısa Süreli Dayanım Akımı, Icw
up to 120kA 120kA'e kadar
Vertical Rated Short-time Short-circuit withstand current Düşey Bara Kısa Süreli Dayanım Akımı, Icw
up to 85kA 85kA'e kadar
Rated Peak Short-circuit Current Bara Tepe Dayanım Akımı, Ipk
264kA
Vertical Rated Peak Short-circuit Current Düşey Bara Tepe Dayanım Akımı, Ipk
187kA
Rated Frequency Çalışma Frekansı, f
50-60 Hz
Segregation İç Bölümlendirme
up to Form 4b Form 4b 'ye kadar
Degree of Protection Koruma Sınıfı
up to IP55 IP55'e kadar
Mechanical Resistance to Impacts Mekanik Darbe Koruması
IK10
Ambient temperature Ortam Sıcaklığı
35 (24 h)
Frame Karkas
Galvanized Steel Galvaniz Çelik
Doors and Covers Kapı ve Kapaklar
Steel, Electrostatic Powder Paint Çelik Elektrostatik Toz Boya
Installation Plates Montaj Plakaları
Galvanized Steel Galvaniz Çelik
Color Renk
RAL 7035
ADVANTAGES :
Fully withdrawable technology in Motor control Centres (MCC) offers many advantages,
especially where malfunctions must be rectified without interrupting operation.
Areas of application are, for instance, processing industries e.g. materials handling,
chemical industry or water treatment plants.
* Easy insertion and retraction of the fully withdrawable units. Unlike conventional
plug-in technology, there is no need to overcome the mechnacial resistance of plug
contacts.
* In case of any failure, drawer can be disconnected by the contacting module and
can be replaced without the need of any tool.
* Power transmission with wear-free contacts in the contact modules.
* Indivudual withdrawable modules can be quickly exchanged or added during
operation without needing to switch off the system.
* Inserted withdrawable modüles can be locked in the positions "operation",
"test" and "disconnected".
* Protection against incorrect operations by safe locking mechanisms.
* Fully withdrawable modules available in standart configurations are, 3-pin or 4-pin;
with 125A,315A, 630A rated currents are
* Offers more cost-effective solutions due to compact contact modules.
TYPES OF WITHDRAWABLE UNITS
AC-2, AC-3, 400V, 50Hz, TYP 2
Module Height Modül Yüksekliği
Direct Starter
DOL Starter
Reversing Switch İleri Geri Anahtarlama
Star Delta Yıldız Üçgen
Fuse Modules Sigorta Modülleri
75
0,37KW-15KW
0,37KW-15KW
—
—
150
15KW-45KW
15KW-45KW
5,5KW-30KW
up to 3P 250A
225
45KW-90KW
45KW-90KW
30KW-55KW
up to 4P 250A
300
90KW-160KW
90KW-160KW
55KW-95KW
up to 3P - 4P 630A
600
160KW-300KW
160KW-300KW
95KW-125KW
—
ADVANTAGES OF THE SWITCHING PRINCIPLE:
The technical principal of the contact module with respect to the power contacts is
"switching" and not the conventional "plugging". As opposed to plug contacts
material fatigue does not ocur. This is the basis for significant system advantages.
In the "operation" position, with the extended control plug,
the switching contacts of the contact module can contact the field
distribution bus bar and the cable connection module.
In the "disconnected" position the switching contacts and control contacts
are retracted allowing the fully withdrawable module to be removed from the
equipment compartment.
Switch Lock:
When the control cabinet module is closed, the functions "Operation" ''Test''
and "Disconnected " can only be initiated by the switch lock.
Main contact of the contact module:
In the inserted position, the load-free electrical connection of the main contacts is
established by activating the switch lock. All necessary operating positions
and locks are realised with this contact apparatus.
Control plug:
The control plug can be extended individually, thus establishing only the connection
to the control. The main contacts are open in this situation, corresponding
to the "disconnected position".
Contact Module:
Every fully withdrawable module is equipped with a contact module. The fully withdrawable
module is lead via the side guide rails of the contact modules.
In its inserted position, the switching contacts can contact the field distribution
bus bar and the cable terminal module. The main contact are encapsulated
and are designed without base points to prevent arc-faults.

PROTECTION AGAINST INCORRECT OPERATION :
The system is protected against incorrect operation by safe locking mechanisms.
For instance, the operating slider fort he contact module can thus only
be switched without load. It is not possible to open the control cabinet
module door when the contact module is engaged.

SAFETY:
Drawers are built in compliance with international standard IEC 60439-1 which
regulates the drawer extraction and locking system.
* Connection mechanism is designed to allow the drawer to be set to any of the four positions
presented below. The degree of protection of the switchboard is maintained in all positions
(connected, test, disconnected and drawer removed).
This is madepossible by the door that can remain closed in these four positions.
1- Connected position; Power and auxiliary circuits are all connected. This position may be
locked using up to three padlocks.
a. A safety system prevents door opening as long as the circuit breaker is closed
(ON position). The interlocking mechanism connects the door handle and the operating shaft on the circuit breaker.
2- Test position; Power circuits are disconnected (upstream and downstream), auxiliary
circuits remain connected. This position may be used to check the auxiliary circuits and
may be locked using up to three padlocks.
3-Disconnected position; All circuits are disconnected This position may be locked using up toı three padlocks.
4- Removed position.
INTELLIGENT DESIGN :
Field distribution busbar is integrated into the system wall between equipment and cable
compartments. Complete insulation and additional subdivision of the individual contactors is ensured
by a design without base points, providing improved arc-fault protection.
Shutters release the contact surfaces of the field distribution busbar and the cable terminal module
only once the fully withdrawable module is inserted. Independent of the module configuration, IP20
–level protection against accidental contact is ensured.
According the Project needs, the fully withdrawable modules can be combined in any manner with
regard to size and function. It is also possible to make modifications during operation without
switching off the system .
Technical details:
Field distribution bus bar is integrated into the system
wall between equipment and cable compartments.
Due to the internal subdivision of the fields (up to form 4),
a high level of safety is ensured for persons and operation.
Cable entry is possible from above and below into the terminal compartment.
The fields and modules are designed on the basis of a 25 mm
grid according to DIN 43660 (25 mm=1 unit).
The standardized modules are available with height groupings of 75 mm (3 units) in the heights
3/6/9/12 units The preferred width for the equipment compartment is 600 mm.